Once again, Team Grumpy entered the Corporate category. Sadly, the 35th Duo Normand was marred by a fatal accident.
This report is written in Microsoft Sway - if the embedded version doesn't work on your device, here's the direct link.
This year's event was shaping up as usual: an extended long weekend away in Normandy for Team Grumpy. Unfortunately, the Duo Normand itself was rocked by an unfortunate fatal accident in which a British rider was killed in a head on collision with another team's support car. I won't dwell on this incident - there are several internet sources for more information - rather, I'll comment here on features of the event that might be altered to prevent another accident.
The Duo Normand is a 2-up team time trial event, in which teams of two riders ride a 54.3km course. The event is not held on truly closed roads, and there's a warning to riders on a flyer handed to all who sign on. Despite this, all the motor traffic on the main part of the course (starting and finishing in Marigny) proceeds in the same direction. However, the following cars (mostly driven by family or friends of the riders) accompanying most of the teams do present something of an obstacle when you catch another team. This is exacerbated in the final 15km or so of the course, in which riders proceed out of Marigny, to turn and retrace along the same road. The two carriageways are separated by traffic cones. This makes passing cars when you catch a team more difficult, and makes it virtually impossible for one supporting car to overtake another.
It seems likely to me (from news reports elsewhere) that the accident followed a support car moving across the road to overtake another. But note that I didn't witness the accident itself.I'd expect the organisers to make some changes for next year's event to reduce the likelihood that another tragedy like this can happen again. In my view, supporting vehicles should leave the course as riders reach Marigny for the first time - out on the final hairpin section, there should be no cars (except for an organiser's broom wagon perhaps, and for the Elite teams).
Thursday
As we have done for the past few years, we had caught the overnight Portsmouth-Caen ferry, which sees us roll off the ferry before 7am. We made it to the house we'd arranged for our accommodation pretty early in the morning and started by turning on the utilities. Sadly we didn't seem to have internet access. We turned to Gerry's mobile wifi gadget that he'd bought some years back in France, but were unable to top it up as our credit cards weren't French. So it was off to the Orange shop in Coutances for an astonishingly lengthy visit. That sorted, it was off to the supermarket for important supplies, such as beer and crisps.
Back at the house, we had brie and bread for lunch before nipping out for a gentle ride round our regular pre-Duo circuit near Cerisy-la-Salle. Following that, we got cleaned up, and we were off out for a dinner appointment with some friends.
Friday
After a good night's sleep, the big plan for the day was to ride round the main part of the Duo Normand circuit in the afternoon. Before that I embarked on a spot of tinkering. The first of this wasn't really a violation of TG rule #2, as I was replacing a 9 speed cassette on my Tacx Neo trainer with an 11 speed one. The second, however, was clearly shaping up as a rule contravention. Earlier in the season, I'd bodged together some eTap switches to fit in the end of the aerobar extensions but just before departing for the Duo, some bona fide bar end switches had arrived, and I was desperate to fit them. Much to Gerry's chagrin/amusement I grabbed a 3mm allen key and got to work. This did not get far as the first of the four bolts holding down the stem's top plate turned out to be knackered and changed from being partially rounded off to being completely rounded off. I sensibly postponed this particular bit of work until my return to the UK! As I somewhat belatedly write this account of the 2016 Duo Normand, removing this bolt has escalated into a major undertaking that probably merits a blog post all of its own.
Once we'd had a spot of lunch, we loaded the bikes into the car and drove over to Marigny. We were a bit concerned that even more street furniture might have been installed on the course - last year saw new sleeping policeman speed bumps in La Chapelle Enjuger. Our ride was pretty pleasant, though we failed to take any cash for a coffee stop! While in Marigny to check out the course, we met a pair of riders from the Veterans category (I think Philip Guy and Geoff Edgerton of North Shropshire Wheelers, though I may be mistaken) who were there for their first ride in the Duo, and answered a barrage of questions from them - this cast our mind back to our own first time at the Duo, and all the uncertainty we had on that occasion!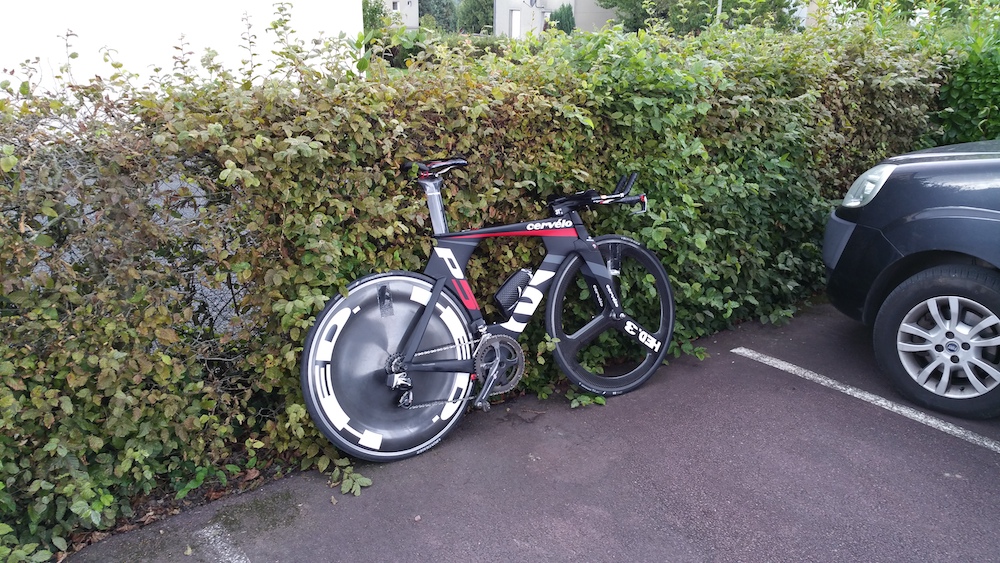 Ready to ride the course...
Then it was off back to the house to take it even easier. Except...
We were sitting enjoying a post-ride beer in the kitchen when there was a prolonged 'pssssst' noise. We looked at each other, wondering who's bike had just suffered a delayed puncture. It turned out to be my front tyre, where the latex tube had worn thin under a gash in the tyre case. That repaired, we could get on with making dinner (a brie and veg omelette) and then consuming some Leffe energy drink while watching some DVDs on the enormovision TV set.
Saturday
Saturday is signing on day, and nowadays is much more efficient than the first few times we rode the Duo. So we didn't take ourselves over to Marigny particularly early in the afternoon. Instead we went off for a spot of shopping, then took an easy spin round our regular training circuit. That went quite well until I decided I needed an 'nature break'. I called out to Gerry that I was stopping, parked my bike at the side of the road and nipped into a field. The break complete, I carried on round the circuit, surprised not to see Gerry. I arrived in Cerisy La Salle, where I sat on a bench (engaging in a 'sort of' conversation with a local) and waited for Gerry. After about 10 minutes I decided to ride back to the house.Back at the house, there was no sign of Gerry. He had the keys! Putting aside any worries, I sat down on the doorstep to wait for him, and after about 10 minutes, he rode into view. It turned out that (a) he didn't hear me say I was stopping, (b) he decided to return back to find me, (c) he didn't see me or the bike, and (d) he decided I must have turned back to pick up something I'd dropped!
Anyway, no damage done, and after deciding to find the whole episode amusing rather than embarrassing, we had a spot of lunch and made our way over to Marigny to sign on. This was pretty quick and we popped over to the Sports Bar for a coffee, where we found the two vets we spoke to the day before.
Once back at the house, we put the paper numbers into the skinsuit number pockets (we were using grey/black Bioracer skinsuits with NoPInz number pockets) and attached the plastic frame numbers to our bikes. This wasn't terribly straightforward for my P5! Then we had a single bottle of Leffe each, a decent pasta dinner and after loading the car with turbo trainers, bikes, kite etc, we retired for a good night's sleep.
Sunday
I woke early, at around 5am, and wandered downstairs. There was a weird noise, rather like a washing mashine and strange lights were visible from the next door field. This turned out not to be an alien invasion, but a stormy wind squall and lashing rain. Not ideal conditions for a race, but we had five and a half hours for the weather to calm down a bit! (I think the flashing lights were some farming activity in a nearby agricultural building).
We were a little concerned that we might not be able to score a good parking spot in Marigny as a consequence of the awnings that had been set up for the elite teams in the main street. In the event, we arrived even before the first of the unlicenced riders were due to start, and had no problems securing our usual parking spot.
We wandered down to watch the early starters, and then back to the car to set up the bikes and turbos. By this time, it was pretty cloudy and had started a steady drizzle. This gave me a bit of cause for concern for my new Tacx Neo turbo, but all was well in the end. After a spot of warming up on the turbos, we went of to ride a bit on the road before going to queue for the start.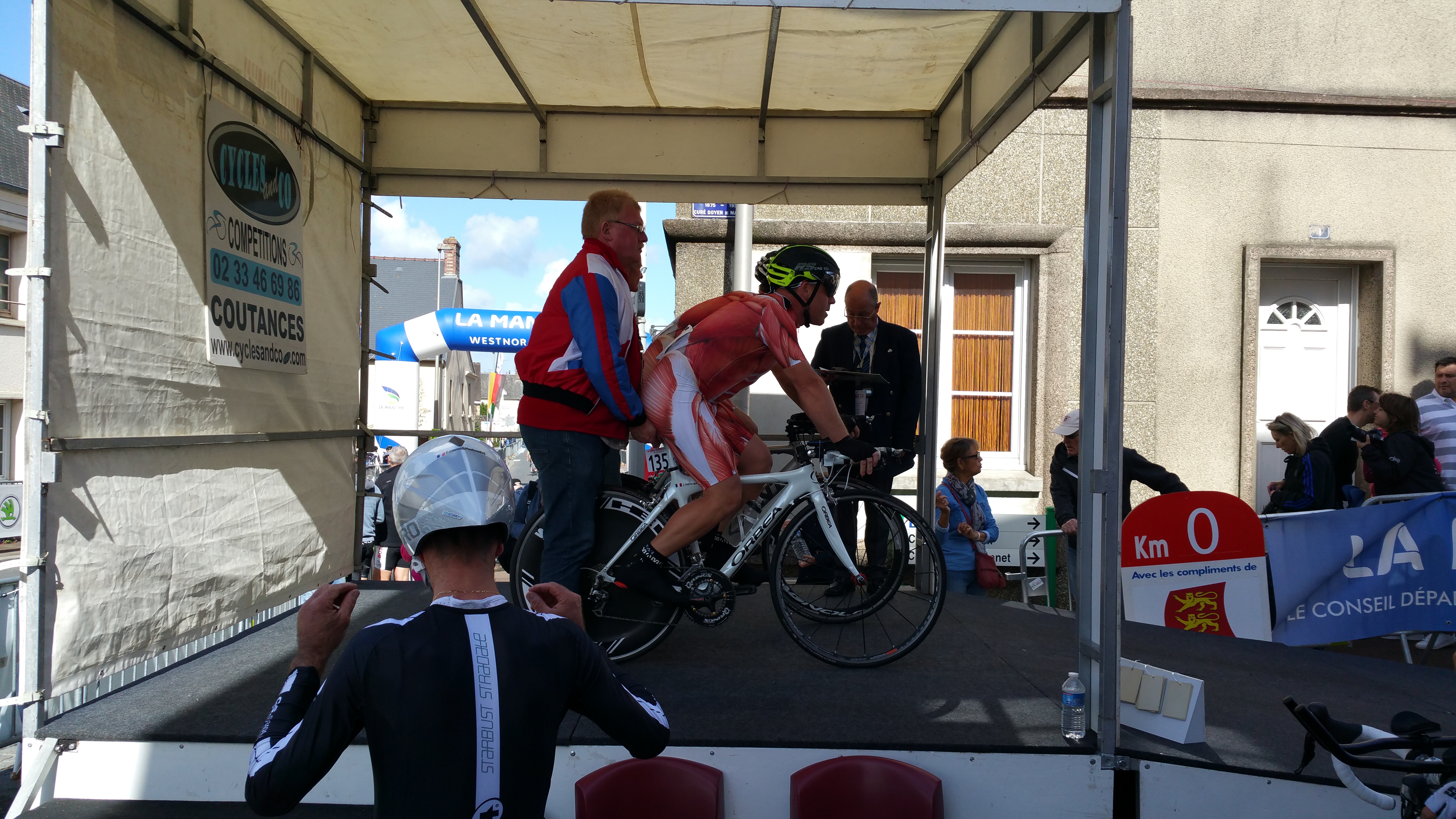 This team seemes to be wearing 'skinless' suits!
The start ramp was, as usual, a bit nerve-wracking. Actually I did wobble quite badly and did think I was going to fall off this year! That averted, Team Grumpy rode up the lane in pretty good style. As usual, Gerry needed to ease back for a few km to recover from his exercise-induce breathing difficulties. Sadly, the rest of the race didn't show Team Grumpy in its best light. We rode pretty raggedly, with gaps opening far too frequently for such an experienced 2-up team.
Inscrutable Bob
The mirror and grey look...
Ready to go...
That said, we did pretty well in absolute terms: we improved our time by over a minute on the 2015 event, which I don't recall as being ridden in particularly tough conditions. In fact, we caught numerous teams, and must have looked pretty good for much of the race. I guess it's fair to say we came apart a bit on the climbs, particularly those in the last few km before returning to Marigny. On one of these climbs I contrived to ride into the verge briefly, which generated a quick expletive (alarming a team who'd just passed us!).
Cornering...but where's Gerry?
Negotiating the Marigny town centre proved a little tricky. Gerry led the way through, but our path was somewhat blocked by a couple of teams and their cars filling the road. I suppose this slowed us marginally, but we did get through together. Riding out of Marigny is always a little lumpy over the many manhole and drain covers. This was exaggerated a little as I rode over someone's lost sunglasses with a satisfying crunching noise.
It's a long old drag out to the hairpin turn, though there is a descent to the turn. On a couple of occasions, passing teams required us to cross over the cones. With hindsight, I should point out that when we do this, we do it very carefully with an eye for oncoming traffic.
We crossed the finish line in 1:25:10 for 7th place in the Corporate category. At first we were a bit disappointed, but on reflection our disappointment maybe reflects the rather poor 2-up style we showed, rather than our time, which was an improvement on 2015's result.
Somewhat grumpily, Team Grumpy made its way back to the car. After a bit of reflection, we packed kit away and got changed. We wandered down to watch the race, buy photos etc. It was about then that the accident happened. Usually we see the usual minor bangs and bashes where riders touch wheels and so forth. Indeed, I did see riders looking like they'd come off in the verge, and a rider hit the barrier after the finish. But the accident I referred to at the beginning of the report was obviously a bit more serious (it must have happened shortly after we finished), and several ambulances arrived. The wives of the vets we'd met on Friday and Saturday asked us if we knew what had happened and what was going on, though I think they knew about as much as we did - they were presumably worried that their husbands might have been involved (they weren't, fortunately).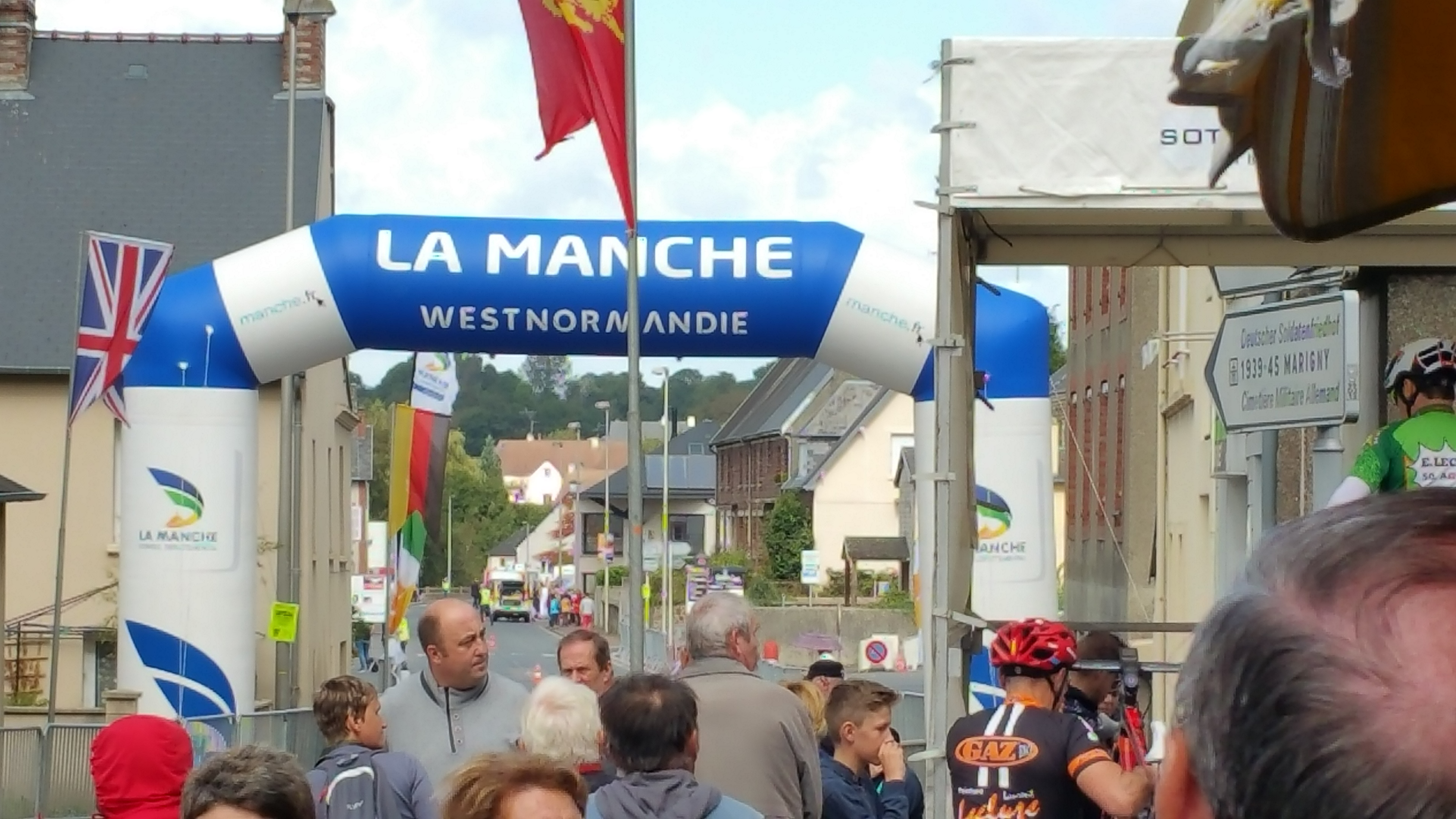 This is a view under the inflatable arch that marks the finish line. You can see the ambulances and how close to the finish the accident happened.
After I'd had a grilled sausage sandwich, we wandered around a bit, and spoke to Ian Bibby and Chris Lodge who, having completed their ride, were lounging in a pair of seats in the square, looking most elegant!
Clearly, results were not going to be forthcoming, so eventually we went back to the car and returned to the house. After a bite to eat, we unloaded everything, and set off for the climb we affectionately know as the Col de Tancrede (it has roadsigns to the Musee de Tancrede). It's a good spot to watch the elite riders, and it can be quite amusing to see the antics of the support cars - shouting through megaphones and so forth, presumably with the idea that they will annoy their riders to such an extent they want to get the race over more quickly so they can clock their support team.
I took some videos with my phone. Here is the winning team Orica BikeExchange...Sven Tuft and Luke Durbridge (Orica BikeExchange) recorded 1:04:12, just 2 seconds from their course record set last year.
So, all in all, a mixed bag for Team Grumpy in their 13th ride at the Duo Normand. I guess we'll lick our wounds and maybe be back in 2017.
Back at the house we made vegetable curry for dinner and relaxed with a number of bottles of Leffe, though an early start the following morning meant we had to do almost all the packing before hitting the sack.
Monday
We set off in the dark, via the recycling bins in Notre Dame de Cenilly. Hopefully we didn't wake up too many of the locals with the sound of breaking glass. The drive to Ouistreham was pretty uneventful, and we boarded the ferry soon after we arrived. We were frankly a bit tired - Gerry slept for several hours while I catnapped. It was good to have the cabin, as we could get showered and cleaned up.