Team Grumpy once again regrouped for another ride, our 14th, at the Duo Normand, the well-known 2-up time trial run each year in late September in Marigny. Nowadays, we generally only ride two 2-ups each year, the Port Talbot Wheelers 2-up '25' in early March and the Duo Normand itself. And with advancing years and work pressures which draw us from training, our performances might be expected to dip over the years.
Team Grumpy entered the 2017 Duo Normand despite an almost total lack of form. This was due (in the case of Grumpy Art) to a prolonged period of illness just as the 2017 season was getting under way and (in the case of Grumpy Bob), a mysterious drop in form. Oh well, Team Grumpy doesn't let minor issues such as lack of fitness get in the way of a fun extended weekend in Normandy!
After last year's tragedy involving a collision between a veteran team and a supporting car near the finishing line, Team Grumpy had wondered what changes would be implemented in the 2017 event.
To be honest, Team Grumpy has long felt that the following cars were more of a nuisance than a benefit and with one exception has eschewed the use of a following car. It's in the final hairpin section from Marigny and back, that cars are a particular issue.

From the Duo Normand website, it seemed as though following cars won't be permitted in the final 12km of the course, and that there will be some neutral vehicle arrangement to aid stranded riders in that section. It also seems there's a clash in the UCI calendar that may reduce entries in the Elite category.
Wednesday
As for the last few years, we planned to travel overnight, on the Brittany Ferries Portmouth-Caen service. This departs 10pm, arriving a little before 7am the following morning, With a Commodore Class cabin, the crossing is rather comfortable, and we usually get some hours of sleep, with breakfast brough to our cabin before disembarkation. The drive to Portsmouth was pretty straightforward, with little in the way of delays (though Gerry had already done 3.5h or so of driving to pick me up). We boarded quickly and settled into the cabin.
Thursday
Woken by the unstappable harp music, but with breakfast, provided we still felt a little jaded despite sleeping as well as can be expected on an overnight ferry crossing. Still, the sun rose soon after we rolled off the ferry. We arrived at our accommodation to find the previous visitors just leaving, and after a quick chat, we set about getting the electricity and heating going. And having verified that the internet was functional, we checked the weather forecast. It seemed that rain was due in the afternoon. Accordingly, we decided to postpone our ride round the Duo course to Friday, and instead ride our local circuit round Cerisy-la-Salle. We paused to pick up some bread and brie for lunch, then returned to the house.
After lunch we visited the supermarker for food, and settled down for an evening of Leffe and DVDs. Only we found we were rather zonked by the travelling and eventually hit the sack early.
Friday
This was a glorious sunny day, and we decided we'd go over to Marigny to ride round the course. It might seem strange to need to do this after so many visits to the event, but you never know what you might discover. A few years ago, some speed bumps appeared in La Chapelle-enjuger, and they are still there, representing a potential crash in the making. This year, we discovered a massive mud patch at about 4-5km that caused us great concern. In fact we found ourselves squidging around rather too much for comfort, and the possibility of hitting the mud at 30mph wasn't exactly attractive.
What with that mud patch and some other muddy tractorial activity out there on the course, we were liberally spattered with mud and the bikes were really filthy. It took a log of washing to get the mud out of the various nooks and crannies of the bikes.
Saturday
Saturday is signing on day for the Duo, and has become a very slick piece of organisation. This is very different to our first outing at the Duo Normand, when signing on was upstairs at the Mairie and necessitated a long bout of queuing up the stairs.
Nowadays, signing on is a much quicker process.
Sunday
And so race day arrived.
I'm sorry to say that any notes I had of the event itself have been mislaid! It's safe to say that with the backdrop of so-so form, our result of 1:26:30 was actually better than expected, and put us in 6th place once again.
Here is the usual start ramp photo
And here is a pretty good action photo of the team cornering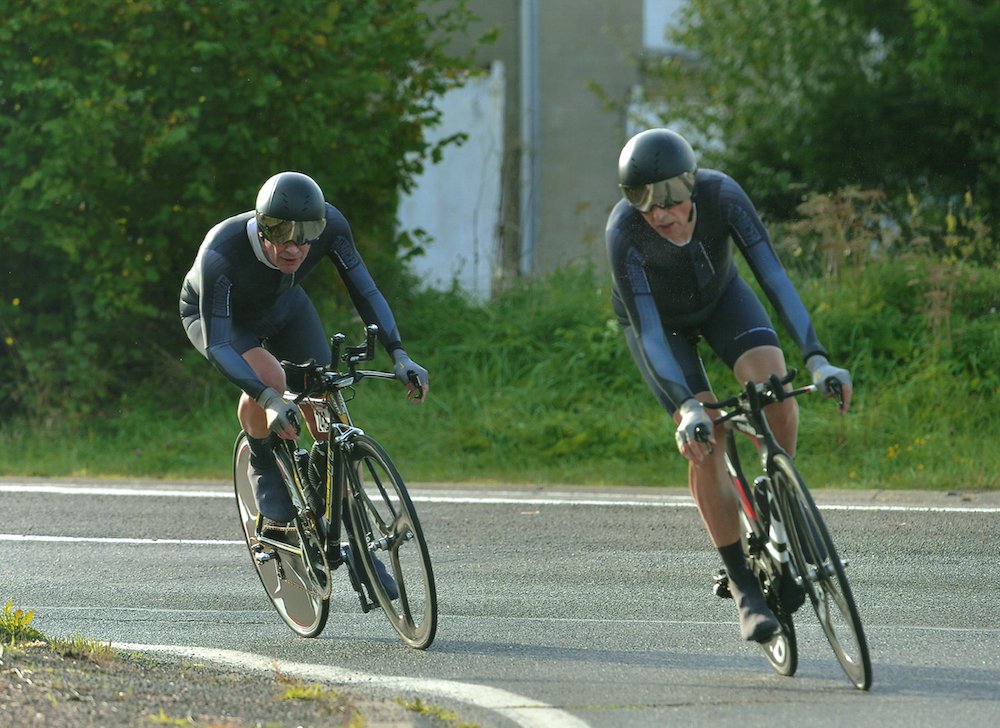 Unlike 2017, we were photographed cornering as a team!
Corporatif Results