Note: this report describes Team Grumpy's second ride in the Duo Normand (we have ridden each year from 2003, with the exception of 2006), and was originally published in the North Bucks Road Club Newsletter.
It was just before mid-day, the sun was directly overhead and the temperature had hit thirty. A couple flashes from the camera in front of us and then the countdown, cinq , quatre, trois, deux, une. We both focused on the road ahead that climbed out of the Normandy village of Marigny. The Duo Normand's motto is l'effort total. We didn't know it at that moment, but this would neatly sum up our race.
Back in March , Robert had emailed me to say he had entered us (again) for the Duo. I had mixed feelings about his unilateral action. After all, I had suffered terribly in 2003 and held him up in the process. It's one thing to have a bad race, but to ruin someone else's race is immeasurably worse and I still wasn't wholly over it. I suspect this is why Robert had gone ahead and entered us - knowing full well that I would probably have second thoughts. We could still have pulled out but, let's face it, it was far less likely once I saw our names on the Duo website.
Unlike 2003, I had enjoyed a successful season and by the time of the Duo in September, I had secured fourth place overall in the Magic Dragon Series and collected numerous second and third places and even a win in open time trials . My confidence was much higher than in the previous year and my preparation was much improved. Robert had also shown good form in the weeks leading up to the race. The heat on the day, though, did worry me and I couldn't forget how painful that cramp had been in 2003.
In the line of riders waiting to mount the start ramp, Robert and I were debating the merits of starting on the big ring (a 57 in Robert's case , 56 for me) or the inner ring. Robert's switching to the 57 ring in readiness had an immediate impact on the French pair who were starting a minute in front of us - they were completely psyched out and this was one of those moments when I wish my understanding of French was better.
Nevertheless, just before climbing the steps to the start we had a change of heart and flipped over onto the inner rings . Well, the start does go immediately uphill.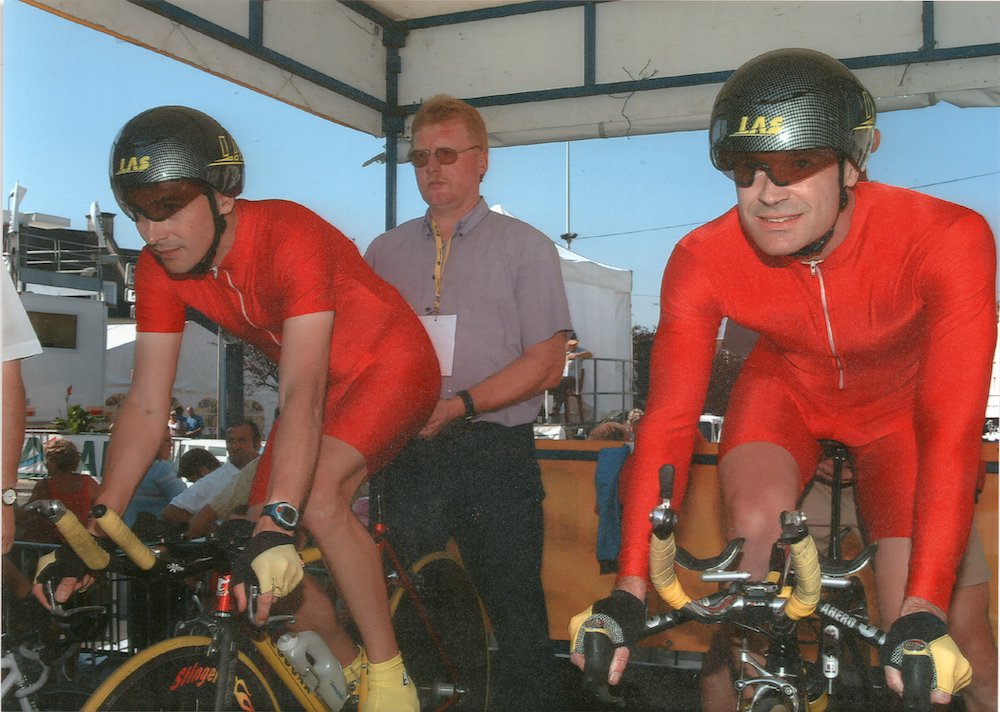 Zero! We were off and so too was Robert's chain - almost. I could see people screwing up their faces and hear remarks in French and English as the crunch of gears behind me broke through the noise of the carnival atmosphere that embraces Marigny on Duo-day. The same had happened the year before. That time, I stopped to see what had happened to Robert. This time I knew I could carry on, so I did but with a cursory look back through my legs to reassure myself that he was still upright. Robert sailed past before the top of that first easy climb exclaiming: 'it always does that in the little ring'. 'I know ' I replied, trying to appear unconcerned.
The first few kilometres were tricky, going directly into a headwind and a little technical. I didn't feel at all good and wondered if 2003 would repeat itself. I didn't know it at this moment, but Robert, too, was feeling bad in these opening kilometres. Suddenly, we rounded a corner to see our minute pair in front of us. Robert led us straight past in a flash. I glanced at my watch (I don't carry a computer anymore as I find it either too depressing or frightening depending on whether I'm going uphill or down). It was only five minutes into the race and we had just caught a pair for a minute. I started to feel better.
We flashed past both the kilometre signs that counted down and quite a few other pairs as we began to pile on the power. The changeovers were much improved from 2003 - it was something we had identified as a problem area and had worked on quite hard. Eventually, we had decided in favour of the front man moving off rather than the rear man coming through. A dress rehearsal the previous day had reinforced our lessons from earlier in the season when we had ridden - and won - three two-up events in five days . The only hiccup was Robert's insistence on going off-course. As we approached a sweeping left-hand bend with a junction on its apex Robert, leading at that point, went straight on as both myself and the marshal cried in our respective languages to turn left. Robert used the international language of expletives to vent his anger then claimed that the marshal was obscuring the sign pointing left. Personally, I think that Robert likes to have something to be grumpy about after each race and, therefore manages to get held up at a roundabout or go off-course . There were no roundabouts on the Duo Normand, so his options were obviously limited.
We belted across a causeway that crossed an exposed section of marshland and turned left at the end (successfully). We were halfway into the race, going well and with no sign of cramp. This was the very spot where it had first come on in 2003. More kilometres flashed by, more pairs watched the Team Grumpy train whip by them. We were flying. Into the village of Feugères and the real climbing began. The wind was now on our backs but unhelpful on this terrain. We climbed out of the village a little sluggishly as our legs had to adjust from the faster riding to out-of-the-saddle climbing. It got steeper on the long climb to Le Mesnilbus, but now we were adjusted to it and both still riding on the big ring. Robert swung off the front on the climb, looked me in the eye as we crossed and gasped and spat out the words: 'heart-rate 193'. 'Bloody hell', I thought to myself, 'he'll blow at that level'. I looked down to see my HRM showing 185 (Robert usually operates at about ten beats higher than me). I was only five beats below my absolute max and we were both well above our respective thresholds. I did a stint on the front, trying to push the pedals round and remain seated, which I am sure is more economical for me, but instead of dropping, the HRM rose to 187. 'Christ', I thought, 'I'll explode in a minute '. Yet it felt sustainable. I moved off the front and gasped to Robert to keep it steady. It seemed to be sensible regardless of how it felt.
We topped out at the highest point of the course - seven miles of climbing now behind us - and descended towards Marigny. Just before re-entering the village is a sharp left-hand corner at the bottom of a very fast descent. Robert had left me on the front on the descents, so that we would at least still be together at the bottom. Also, I found it easier to descend without another rider in front or beside me. At the bottom of this , the fastest and most serious descent, was an ambulance. I was just thinking of a joke along the lines of 'well, they heard I was coming' when I saw the crashed cyclist sat on the verge complete with neck-brace and arm in sling. Glancing across the corner confirmed that nothing else was about and so I cut across the shortest angle. I eased off the front and uttered to Robert as he came alongside me : 'well, that's another pair we've beaten'.
It was a hard drag up into Marigny and we rounded the village square under the grandstand at no great speed (although watching others later on, I suspect we were relatively impressive). There then follows an eight mile out-and-back section before the course finishes back in Marigny. This section is quite tricky because it is a single carriageway road and coned along the centre to allow the race to go in both directions at the same time. This would not be a problem but for the following cars that can take up the entire carriageway and get in the way. The road climbed steadily back into the headwind. It was a real grove l and the earlier effort was now taking its toll.
We descended from the top to the turn at a T-junction and immediately back onto the climb from the opposite direction. This was the final piece of climbing – tired bodies were forced into one last great effort. Then, it was one hell of a blast down the hill and along the flat final kilometre into Marigny to finish under the grandstand. According to Robert's computer we entered Marigny at around 43 mph . A traffic cone wobbled in the road after a following car had brushed it. I hesitated as I watched it wobble and, for the only time in the entire race , lost Robert's wheel and at that sort of speed, a slight hesitation is all it takes. However, I was quickly back and the momentum took me straight past Robert and over the finish line just in front of him.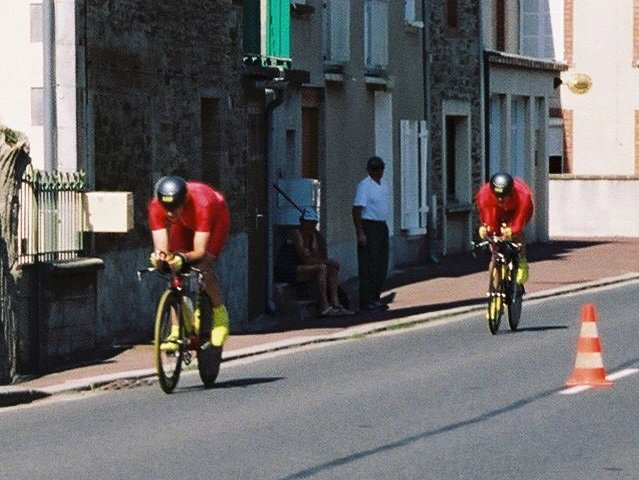 "Grumpy" Art powers back to Grumpy Bob after the "traffic cone incident"
It was a while before either of us could climb off our bikes and even longer before any meaningful conversation was possible. (Do we ever have meaningful conversation? Editor). The effort had been massive . Our time of 1h r 22m 18s was almost two minutes faster than last year - and this on a much harder day when most other pairs went two minutes slower. It was quite a long wait for the results, during which time we watched the bloodied and broken limping in. It seems that the sharp left-hand corner had claimed a few. Eventually, the results appeared on the board and we were fifth. We had passed through the first time check at 20km as the third fastest pair. By the next time check, taken as we returned to Marigny (43km) the eventual finishing order was pretty much sorted out, although in the final 12km (the out-and-back leg) we had taken some time back from the winning pair. Although disappointed not to finish in the top three, we knew that we had ridden strongly, working well together and right at the absolute physical limit - some thing that the information stored in the HRMs would later confirm . It was a total effort and that's all you can do - at least until next year....