Well, Team Grumpy didn't approach the 2012 edition of the Duo Normand time trial with great expectations, which was probably a good thing as their performance was somewhat lack-lustre. In large part Team Grumpy can blame problems with work-life balance causing problems with training, and of course Grumpy Bob had that crash while racing only a few weeks before the Duo.
To this can be added travel woes caused by the Brittany Ferries strike. But that's all a bit like contravening TG rule #1 (Remember to make your excuses before the race, not after. Otherwise it will just sound pathetic.) and Team Grumpy absolutely doesn't want to sound pathetic. Add to this Grumpy Bob bringing a spare rear wheel that lacked a cassette and 'Grumpy' Art's embarrassingly out-of whack rear mech (of which more later), and the team's preparation can be seen to lack attention. Readers might choose to have a look at the TeamGrumpy twitter feed for the weekend.
On the day, conditions were decidedly cool, but it was dry (in direct contrast to the 2011 event) and with only the lightest of breezes. So, ideal conditions.
Lining up near the start ramp, Team Grumpy was delighted to attract admiring glances from two lady riders. Opening conversation, it turned out they thought the TG bikes were pretty spiffy (not their actual word, you understand). Unfortunately for Team Grumpy's easily bruised masculine egos, when the observation was made that the bikes might be good but the engines were not, the ladies commented they were only interested in the bikes. Subdued by this conversation, Grumpy Bob and 'Grumpy' Art made their way to the start ramp.
And off they went. Narrowly avoiding a start ramp collision, and up the lane. Near the top, 'Grumpy' Art detected the stirrings of overdoing it, and the team successfully eased back momentarily. Before long the pace elevated and we began the usual task of reeling in earlier teams. For the most part the early km went well, will little interference from cars (though Grumpy Bob had to bellow at one car to get out of the way to let Team Grumpy).
Team Grumpy's pace slipped once the hilly sections started, and the riders were caught for four minutes by the Procycling team. 'Grumpy' Art's rear mech issues caused him to repeatedly drift off the back on some of the climbs, on the positive side, his usually craven approach to descents was absent and he made an excellent job of the famous 'ghoul corner' - the fast descent with a sharp left turn. The Team rounded the square into Marigny in good style. It would be nice to report that Team Grumpy cornered to tumultuous applause, but in all honesty it has to be said that our heroes were met with near complete indifference. Still, at least there was photographer there to capture us.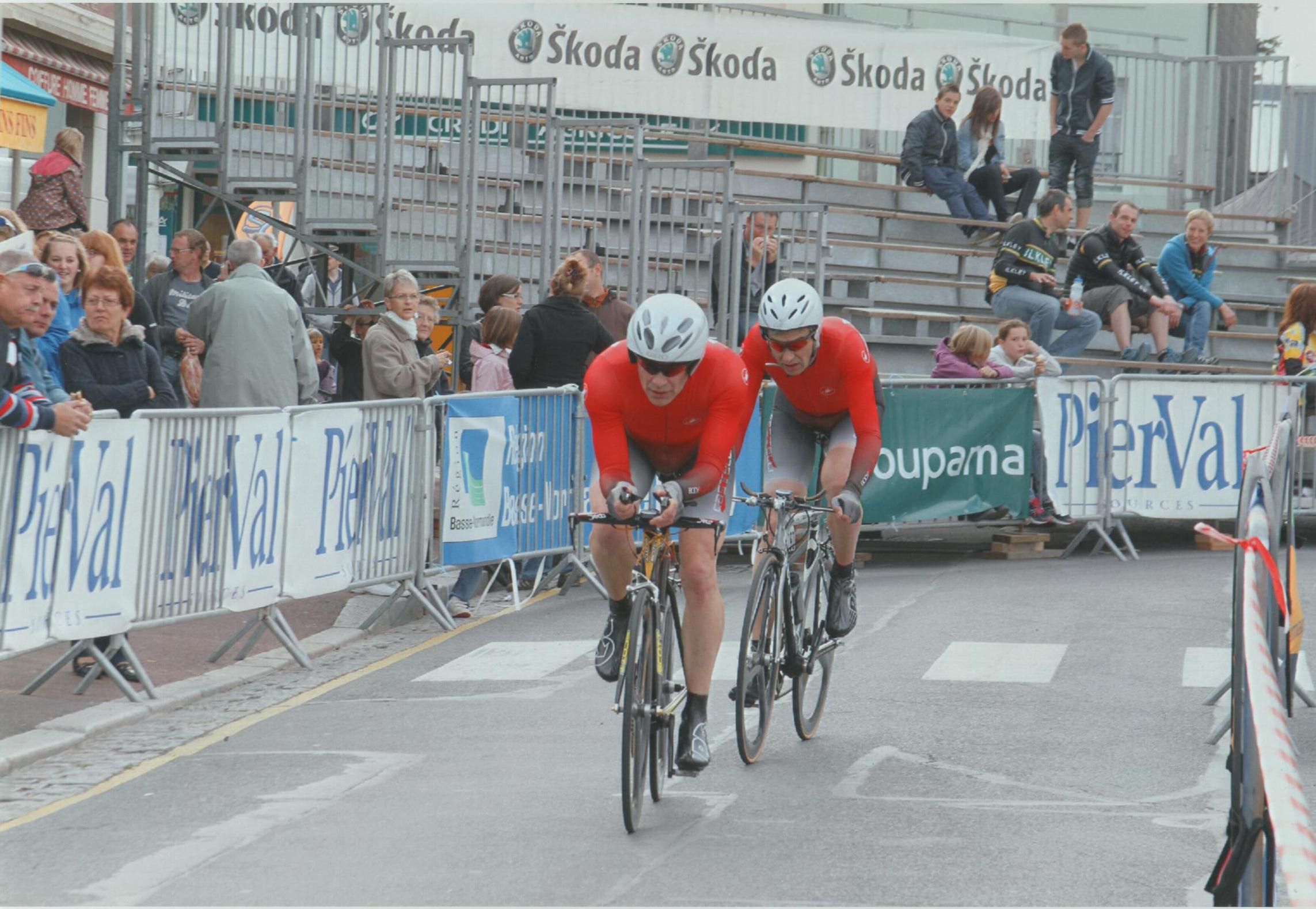 Team Grumpy pass through Marigny to the complete indifference of the less than enormous crowd.
The final section of the course is a hairpin section of road. Here Grumpy Bob and 'Grumpy' Art seemed to alternate between exhaustion and second (and third and fourth...) wind. At times high speed was reached, at others merely a grovellingly low speed. Eventually Team Grumpy raced through the finish line, though 'Grumpy' Art made his final dash some metres before the actual finish line.
The result was 1:26:12, for 6th place in the Corporate category. This was Team Grumpy's slowest time in nine outings at the Duo Normand and quite disappointing. What was alarming was the official result sheet as first released, which had Team Grumpy in first place with 1:16:12. What made this alarming was the potential for embarrassment, since two teams had caught Team Grumpy. Perhaps it was our grumpy heroes' faulty French, but it took a surprisingly long time to persuade the organisers that their time needed 10 more minutes to be added on, but eventually a new results sheet was issued.
Corporatif Results
This is the original result sheet with the erroneous Team Grumpy time that had us in first place! It was in error bt 10 minutes, and took all our efforts to persuade the organisers that we had gone slower that they had recorded!