This was our first ride in the Duo Normand, and probably pre-dated Team Grumpy itself. I don't think we have retained a detailed account of this outing, but here are a few personal recollections from Grumpy Bob.
Getting our entries in seemed to be a large effort - this was before online entry to the event became available, and involved sending in a cheque in sterling, to be exchanged for cash when signing on for the event.
I believe we travelled via Le Havre via P&O on the Friday, and stayed in the Hotel des Voyageurs by the rail station in Saint-Lo. This wasn't massively convenient, particularly since it was pretty closed up on the Sunday evening after the race when we were hungry!
We drove the course after arriving on the Friday, and rode round it on the Saturday. Signing on on the Saturday was awful, involving very lengthy queuing up several flights of stairs in the Maerie in Marigny.
On the morning of the race, we were vey nervous indeed.
We had entered the Veterans category - by September 2003, Grumpy Bob had been seriously mile-eating ahead of his 12 hour time trial, while domestic arrangements had reduced Grumpy Art's opportunity to keep up with training. At the first time checks, we had been sitting in 3rd place, but after a serious bout of leg cramp we sagged to finish in 9th place.
We set a precedent for buying photographs of us on the start ramp: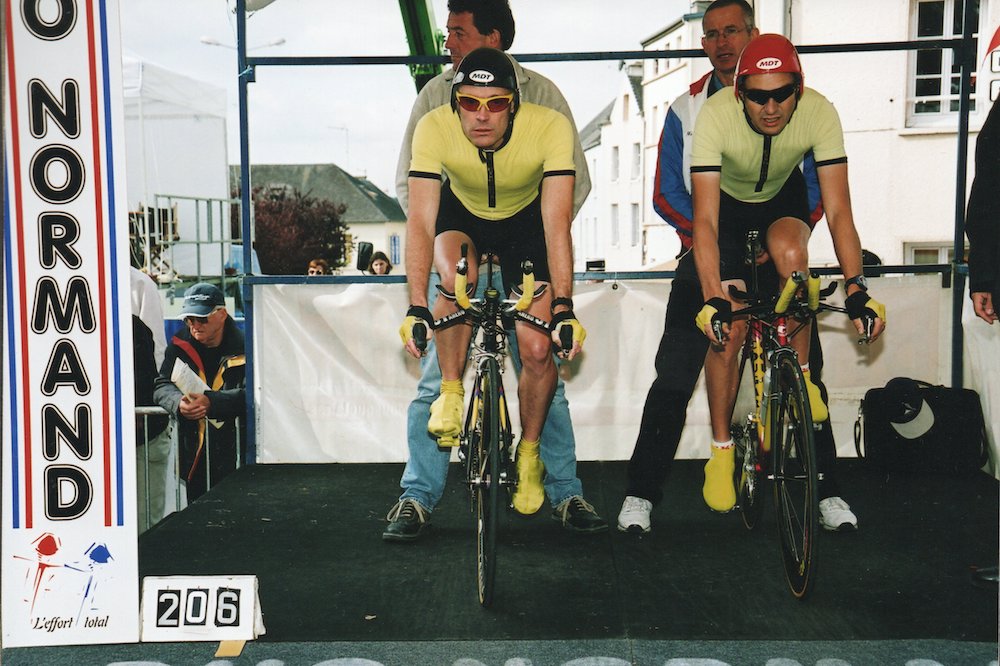 I can see that I'm riding my first 'real' time trial bike, a steel low-pro made by Cougar with a Hed Stinger frot wheel, Corima disc rear wheel (both with tubulars) and a set of Profile TT bars, Gerry was (I think) on his Giat TCR aero frame, and probably riding Hed trispokes.