Team Grumpy approached this year's Duo Normand with the expectation that we'd do less well than in previous years - both riders have had less than stellar seasons. In the event, we did better than we expected, I think, despite being trounced by a seriously strong team riding for BikeRadar.com (Robin Coomber and Jeff Jones), who rode a superb race, taking the category record with 1:15:22.
Two main issues concerned us - firstly, we received emails the day before we set off for France saying that a following car was compusory (we had to drag Carol into this role) and secondly, rumours abounded that the UCI bike regulations would be enforced in all categories. The latter rumour caused us some concern, and a day or so before the event, we made final checks that our bikes complied.
Anyway, after a lot of anxious watching of weather forecasts, on the day it was rather nice, with little wind and temperatures that weren't too hot or too cold. This year, Gerry fixed a video camera to his tribars to record the events as they unfolded. The Duo seemed to lack a bit of atmosphere this year, with rider numbers a bit down. Needless to say, by the time we lined up by the start ramp, it was obvious that no bike checking was going on (and indeed, with a recumbent category, it's hard to see how they could have been applied). Nevertheless, Team Grumpy's nerves were a bit on edge, and it wasn't until I climbed onto the start ramp that I finally felt OK!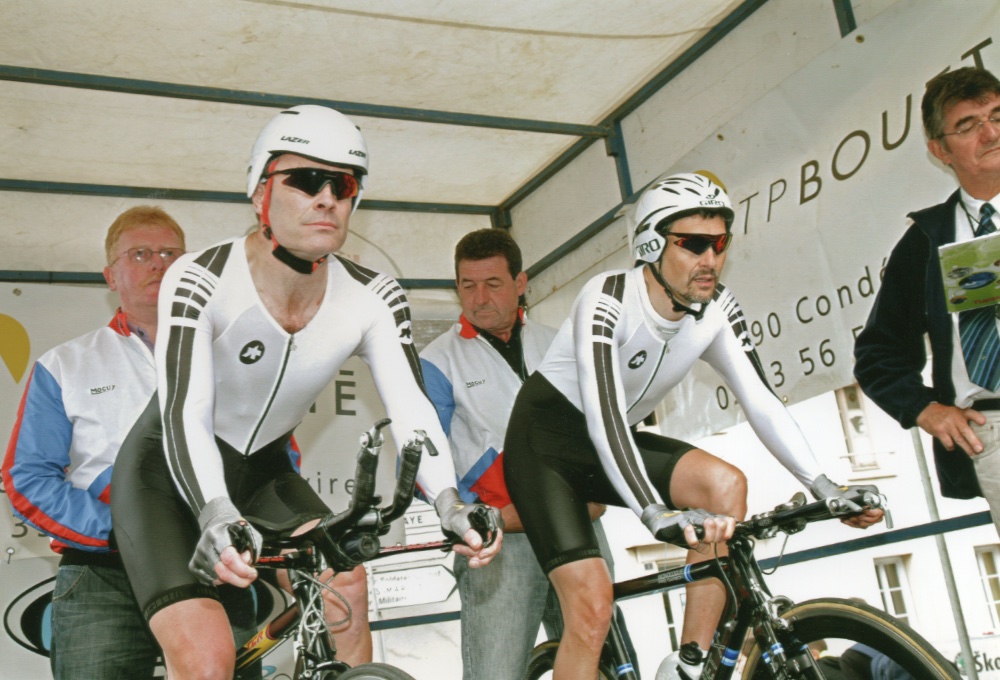 No incidents as we launched off the ramp - though Gerry did pause briefly to check I was there as we ascended the steep lane. We saw Carol in the car lined up to follow, but after only a kilometre or so, she was held up behind a group of vehicles behind a pair, as we roared past (she didn't get back to us until kilometre 10). As usual, the first few kilometres were rather lung-bursting - the road continues a gentle ascent - but soon, the long and fast section down through sheltered bocage lanes begins, as we flashed past farms and the occasional spectator. As was the situation last year, arrival at the left turn into the main road almost caught us by surprise, and thank goodness for the gendarmes keeping an eye on the traffic! (As a side note, many regard the Duo Normand as being run on closed roads - in fact this isn't the case, though there is usually little or not traffic other than that associated with the event).
After a short while, the course turns right to Les Champs de Losque and on to Tribehou, the village where I almost went off-course a few years ago, and which has now been christened "oaf corner"! No problems this year and on we went to the "causeway", the raised road across some marshy fields. In our practice ride, we'd been aware of cross-winds but in the event, the wind was really quite gentle. Once past the marsh it was a sharp left, admirably negotiated by Gerry, at "cramp corner" - the point in our forst outing in 2003 where Gerry began the serious leg cramps that compromised our finish time that year. No problems in 2009, however, as we continued to catch teams, including a team of trikes.
The last few km before Marigny are quite tough, with some short but noticeable climbs. It was here that we'd predicted the BikeRadar.com team would catch us, and so it proved - caught for 6 minutes at about 37 to 38km in! They didn't seem to gain fast after catching us...until the road levelled, when they just vanished from view! On past the fastest descent, where in previous years we'd seen riders injured on the roadside. None this year, so that was good, and (on the basis of video evidence) Gerry may have lost ground as I swooped round the corner, but he came back pretty fast.
We re-entered Marigny in good style, without separating as we came round the square and past the commentators' box. From here (about 42km), it's a pretty stratightforward hairpin section. However it's a bit difficult with following cars, as the centre line is coned off, and there is some climbing involved, albeit gentle. We carried on in soome style. Then Gerry's chain came off and (as he later told me) he started having minor leg cramps. This is probably the reason I felt good up this stretch - I wasn't hanging on for grim death this year! Over the climb we went and down to the turn, where we cornered well. At this point, I could see Carol in the following car. I gave her a wave (for which I was criticised later as evidence I lacked seriousness!), and pressed on. Soon we found ourselved on the final couple of km, where the road drops and we routinely exceed 40mph - no exception this year, crossing the line for 1:25:02. Gerry made the marshals leap out of the way as he didn't slow quickly enough t the sharp right immediately after the finish.
Meanwhile Carol found herself driving around unmarked lanes, having left the course a few km before the finish. Eventually she ended up parked on the outskirts side of Marigny, from where she walked back to find Team Grumpy. Food, beer and photographs were the order of the day as we waited for the results to be avaialble. In the end we finished second with 1:25:02, some way behind the category winners (Coomber & Jones, BikeRadar.com) who'd broken the corporatif record with 1:15:22.
Another fun ride, though not as quick as in previous years. 2010 is the Team Grumpy "centenary" - we'll both be 50, and we'll be back at the Duo again...
Here's the full length video taken from a handlebar-mounted video camera:
(article originally published at Flies&Bikes, see also the Team Grumpy blog)
Corporatif Results