For some years now, Team Grumpy has used the early season 2-up '25' event organised by Port Talbot Wheelers to gauge our form coming out of the off-season. For family reasons, Robert was unable to ride the '25', but the same club was organising a 13 mile event later in March, with a 2-up section. So we decided to enter that event instead.
Team Grumpy's races in Wales follow a stereotyped pattern: On Friday evening we eat curry (this time we visited a local restaurant rather than a takeaway), on Saturday we eat hi-carb dinner, we race on Sunday morning, then have a really good lunch after that.
This event was held on the R13/S course, which is effectively a nice sporting course comprising the second half of the course usually used for the '25'.
As a 2-up team, we rode pretty well, with neat changeovers. Our speed was probably compromised by this being an early season event.
In the end we posted the fastest 2-up time, though it has to be noted that there were only four teams that started (I believe one rider in the fifth was ill and unable to ride).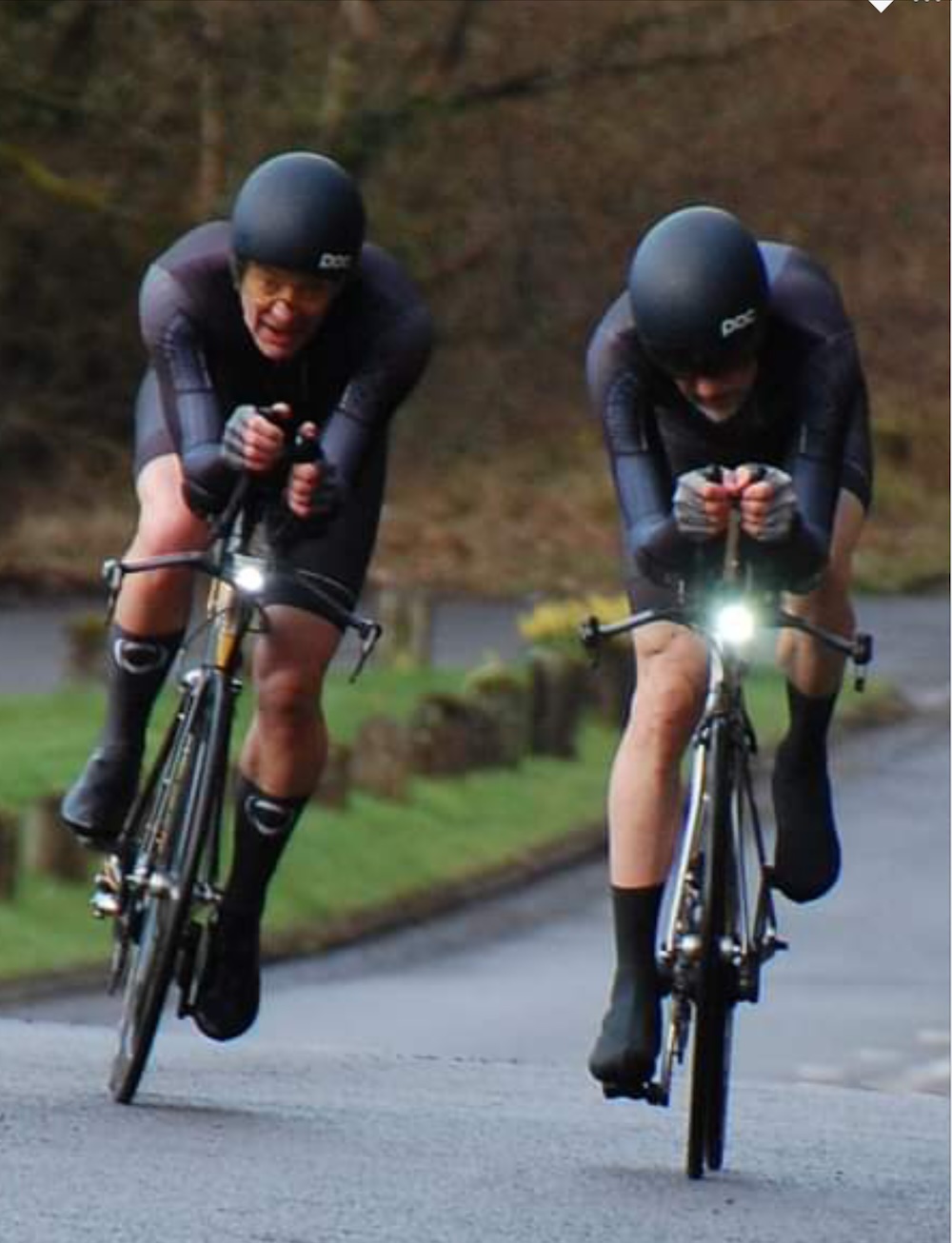 Still, a good start to the season. On the downside, I had a recurrence of the blipbox problem where one of the ports stopped working. I eventually had this repaired by the Turbo Trainer Doctor in Aylesbury.
Results
Position
Machine
Img
First Name
Last Name
Gender
Category
Club
Time
Avg. Speed
1
TT Bike
Gerard
Oram
Male
Vet
Bynea Cycling Club
00:33:58
22.964 Mph
1
TT Bike
Robert
Saunders
Male
Vet
North Bucks RC
00:33:58
22.964 Mph
2
TT Bike
Martin
Edwards
Male
Vet
Port Talbot Whs CC
00:35:12
22.159 Mph
2
TT Bike
Stephanie
Waring
Female
Vet
Tenby Aces CC
00:35:12
22.159 Mph
3
TT Bike
David
Poole
Male
Vet
Tenby Aces CC
00:40:12
19.403 Mph
3
TT Bike
Claire
Thomas
Female
Vet
Tenby Aces CC
00:40:12
19.403 Mph
4
TT Bike
Jonathan
Williams
Male
Vet
Towy Riders Cycle Club
00:41:13
18.924 Mph
4
TT Bike
William
Butler-Jenkins
Male
Vet
Towy Riders Cycle Club
00:41:13
18.924 Mph
DNS(A)
TT Bike
Michael
Portlock
Male
Vet
Merthyr CC
DNS(A)
TT Bike
Gareth
Jehu
Male
Vet
Merthyr CC