Grumpy Bob is aware he said in the Team Grumpy blog that he'd not fork out for new aero bars solely to make his bike UCI-legal. However, a week or so ago he decided to change his mind, and chose some USE Tulas (see picture). The Tulas were designed to be UCI compliant.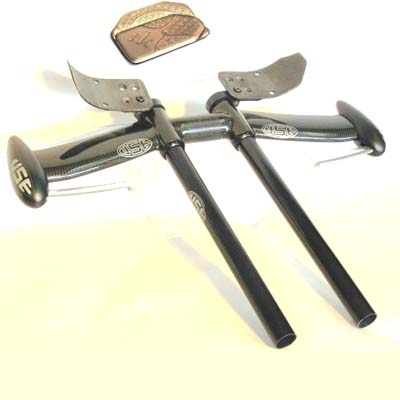 These are rather splendid bars, which are aero in a sort of retro Dan Dare style - check out the "pods" that are the handholds and to which the brake levers fit. The elbow cups are carbon, and a single bolt fastens both the cups and the extensions in place, with a surprising amount of adjustability. The pads are a strange gel like rubber material, held in place (but only barely) by some velcro. Grumpy Bob plumped for the straight alloy extensions.
Cabling is internal - brake cables run from the pods and exit just before the extensions; gear cables enter the extensions and emerge out of the ends for a very clean cable run. The bars are oversize, which seems to help prevent slippage in the handlebar stem. Being a pretty careful sort of rider, Grumpy Bob was rather cautious in his first competitive outing with the bars - the brake levers are in a slightly unusual position. However he quickly got used to that.
In use, the bars seemed rather nice and comfortable. Unfortunately the changed position adversely affected saddle comfort (see this report on the Finsbury Park '25'), so that needs to be addressed (probably by replacing the carbon saddle with a more conventional SLR, which at least has some padding).