Team Grumpy
Team Grumpy is a joky name given to the Two-up team comprising Grumpy Bob and "Grumpy" Art Vanderlay, former clubmates now separated by a considerable geographic distance. We do however race together in 2-up time trials wherever possible, most notably at the Duo Normand time trial held in Normandy each September.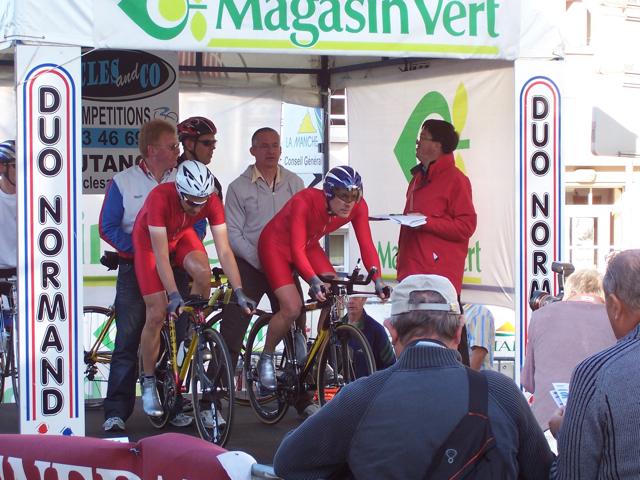 The Team Grumpy Blog
Team Grumpy has run a blog, the Team Grumpy Blog, since the end of 2008, hosted by Google's blogger site.  You can access this within this site from the top navigation bar menu.  Our blog is a rather light-hearted look at the world of time trialling, which rather belies how seriously Team Grumpy take the sport.  But if we didn't laugh at the occasional (and inevitable) misfortunes, where would we be?
Reviews
Team Grumpy has used a variety of equipment over the years - we will write reviews of this stuff to try and give a user's perspective often following long periods of use.  Similarly, we've had varying success at keeping a sensible and effective training programme going, against a changing backdrop of domestic and work commitments - we plan to write on the subject of training methods.
Why the "Team Grumpy Centenary"?
The previous incarnation of the TG website proclaimed the "Centenary Year" - what was all that about?
In the 2010 season, the combined age of Team Grumpy was 100.  We therefore designated that season as our centenary!  No claims to be the longest serving 2-up partnership...
Team Grumpy Rules
Over the years, Grumpy Bob and 'Grumpy' Art have developed a set of rules.  These are of course intended to be implemented at all times, however exactly.  Originally posted at the Team Grumpy blog.
Rule #1. Remember to make your excuses before the race, not after. Otherwise it will just sound pathetic.
Rule #2. Don't tinker with your bike the evening before the event. It will break, either then or, worse still, during the event.
Rule #3. If all else fails, buy some new bike kit.
Rule #4. And if rule #3 fails, new skinsuits are probably a good option.
Rule #5. Never train or race with a bad cough - it will destroy your entire season.
Rule #6. Tantrums are appropriate if provoked (e.g. by mechanical problems), but try to avoid damage to equipment.
Rule #7. Team Grumpy riders are allowed to use whatever equipment they wish (and their wallets permit). However, the official team energy drink is always pop belge.