I've recently taken delivery of a Garmin Edge 500 bike computer, rather a neat piece of kit that can use GPS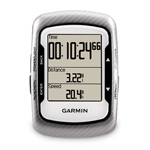 positioning to show speed and distance: it also has a speed/cadence sensor and a chest strap to send HR to the unit. It is ANT+compatible so can receive data from any ANT+ power sensor (I've got an eye on the Metrigear pedal spindle device, should it ever enter the market).
Garmin have a website to which data can be downloaded from the unit online: this requires a downloaded plug-in to facilitate upload from the Edge 500. Or so they say (more on this in a bit), and it's only available for PC and Mac. The software is pretty limited in comparison to other apps I've used. While you can see graphs of power, altitude, speed and heart rate, you can't seem to plot them in combination. Nor are there any of the very useful ways of plotting power data that some other packages offer. You can however use Garmin Connect to convert from FIT format to TCX format, which can be useful.
Details

Hits: 24166
Read more … Of Garmins, Polars and Golden Cheetahs…Power-based Training, part 2